OneStream
Getting Started with Parcel Services in OneStream
2 min. read
Spending hours crunching numbers and sending reports can be frustrating. What type of documents do the recipients need? What level of security access is each recipient allowed? Does each level of management require a different version? Reviewing and gathering this information every time reports are sent out is time-consuming and susceptible to human error.
Fortunately, OneStream users can save time and increase productivity using Parcel Services.  With just a few clicks of your mouse, personalized reports can be sent to recipients with varying requirements. Users can create report books and distribute documents by creating document packages that can be shipped, emailed, or copied to a file-sharing portal based on a pre-defined distribution setting.
What is OneStream Parcel Service?
The OneStream Parcel Service is part of the OneStream MarketPlace which provides the ability for users to extend the financial close and reporting capabilities of the OneStream platform with over 50+ productivity tools customers can easily download, configure and deploy.
Create and send packages
Parcel Services can be used to create a package (one or more documents) or a package group (one or more packages). The documents can then be shipped using predefined distribution settings, and distribution lists that can be set up to ensure that everyone gets the correct version of the reports.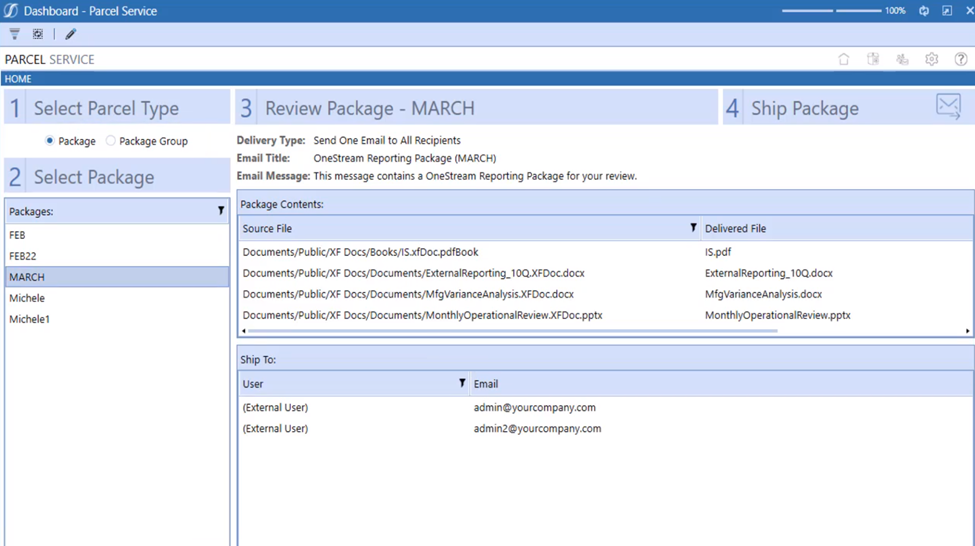 Documents can be delivered via email or to a file share. Users are able to easily ship from the home page or automate the delivery using powerscript automation.
Distribution lists are created on the Manage distributions page that can be created from scratch or copied from an existing list. The Manage distributions page also allows you to set up email and file share locations for where the packages should be shipped.
Configuring reports
An administrator assigns access groups to the parcel service function and configures information about the emails that are sent to recipients. This allows users to use the Manage Package page (Figure 2) to easily create, copy, modify, and ship package/package groups based on the security access of each user. These can be delivered as one email sent to all recipients or as separate emails sent to each recipient. To save time you can copy an existing package and modify it as needed. Notifications can also be set up to automatically notify the required users once certain actions have been completed.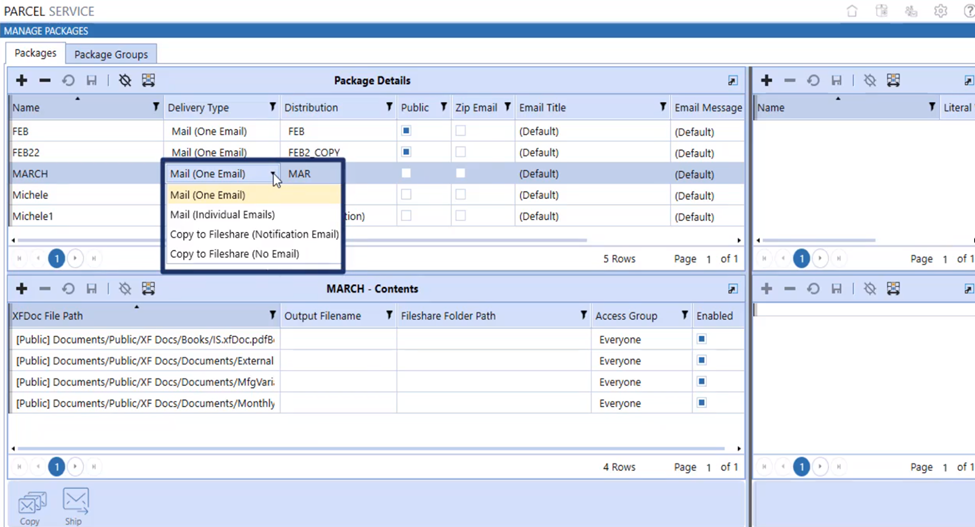 To run the reports, there is a simple four (4) step process from the home page. The first two steps begin by selecting the parcel type and then the package. In the following next two steps, you review the contents and the distribution list before you ship the package. You can automate delivery using PowerShell scripts included in the solution.
Final thoughts
The OneStream Parcel Service is a great solution for clients who want to minimize manual entry and save time with the reporting/management process. It is simple to use, allows personalization on your reports, and can be automated to run at a scheduled time.
If you are interested in learning more about Tevpro and how we can help you extend the value of your OneStream investment, please contact us today.
Photo by Andreas Klassen / Unsplash
Senior OneStream Consultant