OneStream
Exploring OneStream Task Manager: Features, Definitions, and Insights
2 min. read
For financial leaders, managing workflows and essential processes within their OneStream application is crucial for success. The OneStream Task Manager MarketPlace Solution might be the optimal choice to guarantee that managers and users excel in these operations.
Benefits of OneStream Task Manager
OneStream Task Manager uses technology to delineate standardized, repeatable tasks, empowering users to organize processes within and outside OneStream. The tool enhances critical processes with interactive charts and built-in collaborative communication.
The OneStream Task Manager Solution eliminates guesswork by tracking and overseeing individual or collective tasks. It offers a centralized panorama of all workflows and processes.
Features and Definitions
Scorecard Dashboard: On the Scorecard dashboard, one can find preparation status, approval status, workday summaries, due date overviews, and timeliness trends—all consolidated on a singular page. These can be sorted by Time, Role, Group, and Category, simplifying the process to drill down into task specifics or directing users to uncompleted workflows or tasks.
Tasks: Tasks can be designated based on close or process dates. Users can effortlessly generate a new task, append action items, update statuses, or add guidelines with just a few clicks. Moreover, a user can set task completions dependent on other tasks in a group.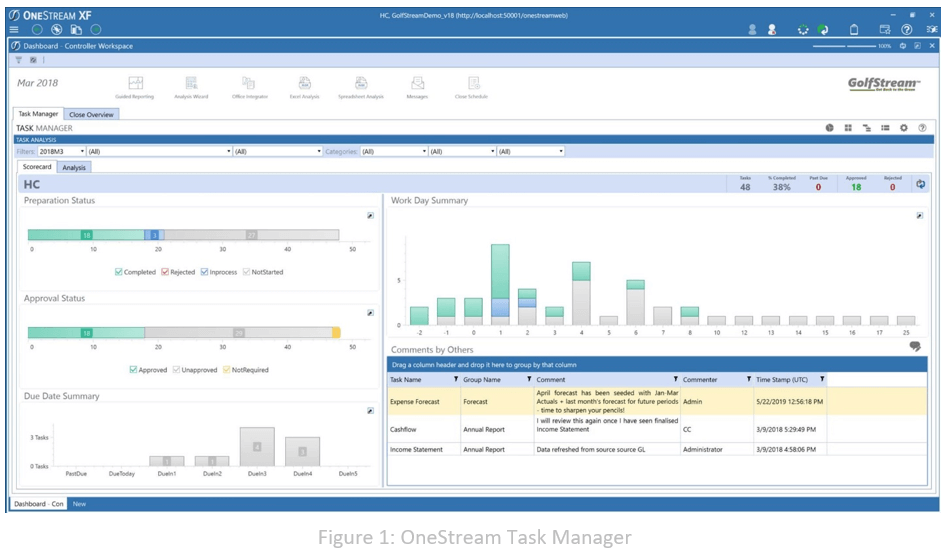 Task Action Steps: The Task Action steps enable the assignment of workflow profiles, scenarios, and time periods, simplifying process navigation.
Mass Updates: The Mass Update utility minimizes the chore of editing numerous tasks by letting users select the rows they wish to modify, suitable for hundreds or even thousands of tasks. These modifications can be previewed, saved, or reverted to their original state.
Disclosure Management: Disclosure Management features facilitate multi-user collaboration on shared documents, including books and reports. Integrated with Office products, users operate in a familiar and productive environment.
Messaging in Task Manager: Task Manager's Integrated Messaging system notifies users of impending deadlines and signals managers about tardy tasks. Users can dispatch messages asking about tasks or forward tasks as necessary. These communications are linked to specific tasks and equipped with time and date stamps, fostering efficient team dialogue and efficiency.
Security and Roles: Task Manager's role and task security promote responsibility and guarantee a clear division of roles. Tasks and task groups are linked with workflows. Visibility into tasks is contingent on task ownership and allocated attributes. This rigorous role separation ensures a user can't both complete and approve the same task within a given time period.
Final Thoughts
Task Manager transcends being merely a close or financial planning and reporting calendar. It is a navigational instrument guiding end users through any financial process established in OneStream. It ensures cohesive operations across multifunctional teams.
If you're ready to explore more about Tevpro and how we can amplify the value of your OneStream investment, reach out to us today!

Senior OneStream Consultant